Product Overview Bluetooth Devices

This category presents the Bluetooth devices currently available from us.
BT Serial

In this category you will find our Bluetooth Embedded RS232 Adapters. These adapters are available with internal or external antennae. They work with the regular COM-Port (serial port).

BT Printer

In this category you will find our Bluetooth Combo Printer Adapters. These adapters work with USB printer port and/or 1284 Parallel Port and support different Bluetooth standards as well as operating environments.

BLE RawIR

Adapter for the conversion between Bluetooth Low Energy (BLE) and RawIR. Mobile field use in connection with Android and iOS / iPad OS devices.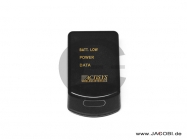 ACT-BT5713U-v2 enables any devices with BLE capability to connect with Raw IR devices.
Bluetooth BLE to infrared transfer adapter.