ACTiSYS IrDA and RawIR Infrared Adapters

Here are all adapters for RS232 and USB!
Computer Adapters

This category contains all adapters which enable your computer with infrared/IrDA connectivity.

Industrial Adapters

This category contains adapters which are ideal for idustrial usage, or which enable special configurations.

Important information for the model numbers ending in "L" or "LE": The LED behaviour depends on the variant of the adapter. This needs only be considered when LED is used a status information.

LED Behaviour ACTiSYS IR-Adapter
Status
ACT-IRx24UN-Lx
(standard version)
ACT-IRx24UN-Lx-LE
(e.g. ACT-IR224UN-LN115-LE)
Power On
LED on for 1 Second
LED off for 1 Second
Standby or Receive
LED off
LED on
Transmitting
LED blinks rapidly, but weak

Intelligent IrDA

Here we offer the integrated, intelligent IrDA adapters of ACTiSYS from our stock in Germany. For detail questions and specifications, please contact us through sales@jacobi.de!

Printer Adapters

This category contains all adapters which are enable wireless connectivity with your printer.


19.2, 38.4 and 57.6 kbps

ruggedized version IR220LRi

no external power is needed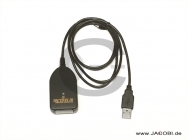 replaces serial adapter models of ACTiSYS

NEW PL2303GC Prolific Chip as USB/Serial converter

native Windows 11 OS support

Android compatibility

doubled memory, twice the clock speed

Ruggedized version is also available.
New model since 8/2023